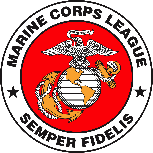 September: Race the Run 5K race
November: Marine Corps BIrthday
December: Marines Helping Marines!
COMING SEPT. 11th
Race the Roof 5K, at Fire Station #3
Registration- 7AM, Race starts-9AM
Pancake Breakfast follows the race
April: Officer Elections; High School Scholarship Presentations
May: Officer Installation; WY State MCL Convention in Riverton
June: BBQ at Fire Station 11 in Sleepy Hollow
ALL MARINE CORPS LEAGUE MEMBERS ARE URGED TO ATTEND ALL REGULAR MEETINGS. MARINES ARE TAUGHT TO BE "ALWAYS FAITHFUL." WE NEED YOU PRESENT TO CARRY OUT OUR WORK.

Regular Meeting 1900 at American Legion Post 42

PATRIOT DAY
RACE THE ROOF 5K at Fire Station #3 9 AM