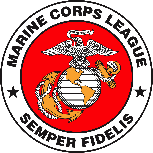 OUR SERVICE TO THE COMMUNITY:
1. College scholarships: We award four high school
seniors, who are family of veterans,
a scholarships to the college of their choice.
2. Marines helping Marines: We provide financial or
other assistance to Marine and other veterans
that have medical, financial or handicap needs.
3. Support for Community Agencies: We make annual
contributions to local social agencies at
Christmas.
4, Support for Wreaths Across America: Purchase
and help place wreaths at Mt. Pisgah cemetary.